Today, Blizzard released details of each of the in-game goodies included with the purchase of either a physical or virtual BlizzCon 2015 ticket. Similar to prior years, the items will unlock shortly after BlizzCon begins and players will receive at least one in-game reward for each of Blizzard's current flagship games. BlizzCon 2015 will take place in Anaheim, California November 6-7, 2015. While tickets to attend the two-day convention have been sold out for some time, the virtual ticket is available for $39.99.
World of Warcraft - Murkadin Pet
After consuming the shin bone of Gul'dan, this fiesty demon hunter was caged for 10,000 years by his brother Murkfurion. Now he's ready to unleash his finfernal rage in pet battles across Azeroth!
Heroes of the Storm - Nexus Battle Beast Mount
Teams will tremble and Cores will crumble when you storm into combat astride the mighty Nexus Battle Beast!
 Hearthstone - Blizzard 2015 Card Back 
Hearthstone on phones, Tavern Brawls, Blackrock Mountain, The Grand Tournament, and more—a very cool year, indeed.
StarCraft II - Portraits
Show off your status as a galactic BlizzConquerer with a pair of Legacy of the Void–themed portraits invoking the mysteries of the Xel'Naga and the power of the Spear of Adun.
 Diablo III - BlizzCon Pennant, Pet, and Portrait

A trio of treasures awaits! Fly the colors of the BlizzCon crusade with an all-new pennant, and mrglgllglgll the demonic hordes with your Murkgoblin pet and portrait.*
The StarCraft rewards are a little underwhelming. Something BlizzCon themed would have been preferable. For example, a special BlizzCon inspired unit skin, ala the 2014 & 2015 BlizzCon Heroes of the Storm mounts, or a unique Allied Commander mission, would have been exceptional. We will just have to console ourselves with all of the new campaign, features, UI, modes, units, and skins coming with Legacy of the Void's  imminent release.
Sources:
Battle.net - BlizzCon 2015 In-Game Goodies Round-Up
Battle.net - BlizzCon 2015 Virtual Ticket
BlizzCon.com
The charity auction for this year's BlizzCon is now open. The auction will last until November 14, with various artwork and plushies for grabs. All proceeds will go to CHOC Children's, a children's hospital located in Orange County.
To see the items available, you can view this page, or you can go to this page to place bids. If you want great pieces of Blizzard art and memorabilia, now is your chance.
Source:
BlizzCon - Bid Now in the BlizzCon 2014 Charity Auction for CHOC Children's
This is where you can find links to all of StarCraft: Legacy's coverage of BlizzCon 2014.
BlizzCon 2014 Opening Ceremony
BlizzCon 2014 StarCraft II Press Releases
BlizzCon 2014 Heroes of the Storm Overview
BlizzCon 2014 Heroes of the Storm Deep Dive
BlizzCon 2014 Heroes of the Storm: Sound of the Nexus
BlizzCon 2014 Legacy of the Void Campaign Panel
The winners for the 2014 Halloween Pumpkin Carving Contest have been announced! You can see the five spectacular winners here.
In support of CHOC Children's, Blizzard is hosting an online charity auction during BlizzCon 2014. Various items will be available, such as art pieces, sculptures, and plushies.
The auction house opens November 5th. Be sure to check this page for the item listings.
For more into about the auction, click here.
Source:
BlizzCon -  BlizzCon 2014 Charity Auction for CHOC Children's
The WCS Global Finals will be taking place at BlizzCon and it can be seen from the comfort of your own home. There is a large post by Blizzard that provides links to all of the streams that will air the WCS, sorted by language. The list of streams can be seen below:
Language

Production

Opening Weekend
Broadcast

English

Yes

German

Yes

French

Yes

Italian

No

Portuguese

No

Spanish (LatAm)

Yes

Spanish (EU)

Yes

Russian

Yes

Romanian

No

Swedish

No

Polish

Yes

Chinese (zhTW)

Yes

Chinese (zhCN)

Yes

Korean

Yes
Head over to the BlizzCon Tournaments page for more details.
Source:
Battle.net - Where to Watch: StarCraft II WCS Global Finals
The annual pumpkin carving contest has begun! Blizzard is holding their 2014 Halloweeen Pumpkin Carving Contest in order to see who can carve up the best jack-o'-lantern.
Five winners will be chosen to receive a Hallow's End Nemesis: The Headless Horseman Action Figure. Full contest details as well as how to submit your entry can be found here. Contest ends October 29th.
This year's BlizzCon is quickly approaching, and attendees can now plan for the event with the help of the event map and schedule.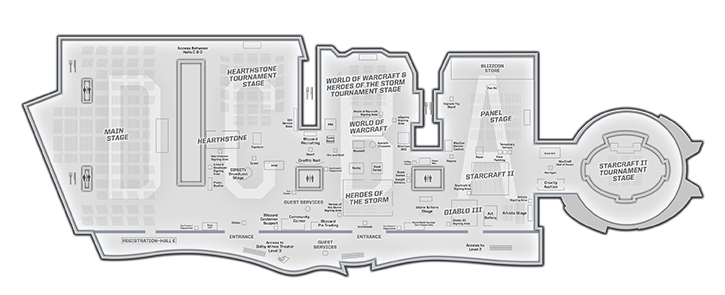 The BlizzCon Friday schedule and Saturday schedule are viewable on the BlizzCon site.
Source:
BlizzCon - Check Out the BlizzCon® 2014 Map and Schedule
Blizzard is giving away a bunch of merchandise to people that will be hosting BarCrafts during the WCS. Anyone who is looking to host a BarCraft is eligible, and could win t-shirts, keychains, and more to give away to attendees!
The Starcraft II World Championship Series is coming to BlizzCon 2014, and there's no better opportunity to host a BarCraft. Get your friends together and watch every thrilling moment as the titans of StarCraft II do battle at the Anaheim Arena! Even better, you could get your hands on a BlizzCon Stim-Pack to inject that excitement into your event!

Each Stim-Pack will include some great StarCraft themed items to give out to your attendees during the Global Finals such as t-shirts, keychains and even StarCraft coasters to rest a frosty beverage.
How to Submit

Submission is easy! Just fill out the BarCraft Event Submission form here to let us know you need a Stim-Pack! Last day to submit your event by 11:59 p.m. on October 12.
For full details, click here.