Update: There were some StarCraft II matches going on, which have just been posted on the TeamLiquid forums.
http://www.sk-gaming.com/content/29847-Garmito_wins_Grubby_exhibition_match
SK-Gaming reported Grubby and Garimto had an exhibition match held in korean air hanger

Garimto played terran and Grubby protoss


VODs:
Game 1: Grubby (P) vs. Garimto (T) @ Lost Temple http://tvpot.daum.net/clip/ClipView.do?clipid=24914250
Game 2: Grubby (P) vs. Garimto (T) @ Scrap Station (1/2) http://tvpot.daum.net/clip/ClipView.do?clipid=24916138
Game 2: Grubby (P) vs. Garimto (T) @ Scrap Station (2/2) http://tvpot.daum.net/clip/ClipView.do?clipid=24916515


On the 13th of this month we posted news about a Korean Press Event being put together by Blizzard on the 24th promoting StarCraft II, with a special "surprise" mixed in. That event occurred, and we have the details.
The event was to announce Blizzard's marketing and advertising partnerships in Korea. To announce their partnership with KoreaAir Airline, they revealed a StarCraft II themed jet, which should always have a Doctor on board in order to qualify it as a Medivac Dropship.
Below is a translation of the Korean post from Fomos.
On June 24th, Blizzard Entertainment Koreaannounced with Korean Air the joint marketing plans for StarCraft II: Wings ofLiberty.

Through this joint promotion, the image ofa StarCraft II: Wings of Liberty Terran hero, Jim Raynor, was wrapped onto aKorean Air airplane with special film and paint. The two planes that have beenwrapped, a B747-400 and a B787-900, will begin flying routes within Korea and routes including stops in the Americas and Europe.

Paul Sams, Blizzard Entertainment's ChiefOperating Officer, said, "We are happy to proceed with this joint promotiontogether with Korea'sleading airline, Korean Air." He also added, "Because StarCraft II: Wings ofLiberty is nearing global release, this event gives a special opportunity toinform the world's gamers about the StarCraft universe's characters and styles."

Seo Yong-Won, CEO of Korean Air, said, "Withthe world's first-ever StarCraft II wrapping airplane, we have begun a newstage of success," and, "Korean Air, who seeks change and innovation, hasdecided to work with Blizzard in this joint marketing to plant dreams in theyounger generation so that, through new challenges, it (Korean Air) can stand justlyas the important leader of the future."

StarCraft II: Wings of Liberty is set for a global release of July27, 2010. More information about the game can be found on the StarCraft IIhomepage.
Blizzard also announced a partnership with Lotteria, a Korean burger chain, and graphics card company Nvidia. While some fans were hoping for the announcement of a "StarCraft II Professional Edition", which included LAN capabilities for major tournaments, it appears the event was just to announce advertisers, which while not being the most exciting thing in the world for fans and gamers, should be taken as great news since a strong advertising base will add to the longevity of the game.
Source:
Fomos Korean StarCraft News
For those of you hoping to purchase a ticket to this year's
Blizzcon
, both batches of tickets have already gone on sale and are now sold out. Keep in mind you can still order the event on DirectTV's Pay-Per-View when it takes place on October 22 & 23 in Anaheim, California.
SECOND BATCH OF BLIZZCON TICKETS SOLD OUT 06/5/10



The second batch of tickets for BlizzCon 2010 has now been sold out. If you weren't able to get tickets this year, keep in mind that coverage of the gaming festival will also be offered by DIRECTV as a Pay Per View event, available both via satellite and multi-channel Internet stream. Keep an eye on the BlizzCon website for updates on panels, exhibits, events, DIRECTV and Internet stream info, and more. We look forward to meeting some of you at the show!
Source:
Official BlizzCon Website
A short while ago, news from Korea revealed that Blizzard has found a new eSports partner, Gom TV, and that Gom TV will have exclusive rights to events, tournaments, and broadcasts related to Blizzard's games. Below is the article, translated by StarCraft: Legacy.
Blizzard Signs Exclusive eSports and Broadcasting Partnership with Gom-TV

Exclusive Hosting and Broadcasting Rights Acquired for National Blizzard-Certified Game Tournaments

A leader in the development and publishing of game software, Blizzard Entertainment (www.blizzard.com), has just announced that it has signed a contract with Gretech on May 26, 2010 for the eSports and broadcasting partnership with Gretech's internet broadcasting channel, Gom TV.

Through this partnership, Gom TV will acquire the exclusive rights to the hosting of national tournaments and the broadcasting of eSports events based on the anticipated real-time strategy game StarCraft II: Wings of Liberty, StarCraft: Brood War, Warcraft III, World of Warcraft and its expansion packs, and other Blizzard games for 3 years.

With Blizzard Entertainment's cooperation, Gom TV has broadcasted tournaments related to StarCraft, Warcraft III, and World of Warcraft since 2009. Through the new eSports partnership, Blizzard Entertainment and Gom TV will continuously broadcast tournaments and events of amazing quality and excitement that are based on the competitive Blizzard games that eSports fans have come to love.

Paul Sams, Blizzard Entertainment's highest managerial person in charge, said, "I'm glad to work with a partner that understands Blizzard Entertainment's eSports vision and shares the passion for the growth and development of domestic and global eSports," and "Because the release of StarCraft II: Wings of Liberty is coming closer, we want to be able to provide broadcasts of fast-paced matches and game events of exciting competitive structure to the nation's eSports fans."

Bae In Shik, Gom TV representative, said, "I am very happy that the existing eSports fans can endlessly enjoy tournaments of Blizzard games," and "From now on, the StarCraft II competitions that Gom TV hosts will have open doors so that the country's StarCraft progamers can freely participate, and we look forward to cooperating with broadcasting companies that pioneered the eSports broadcasting realm."

After July 27, the official release of StarCraft II: Winds of Liberty, Gom TV plans to hold a StarCraft II league, and Blizzard Entertainment will host a StarCraft II ladder tournament with Gom TV.

Also, Gom TV plans to host a StarCraft II World Championship, which will be a global league, with the participation of famous gamers from Korea and foreign countries. Other than this, through clan competitions, winning streaks, and other matches, Gom TV plans to show off a variety of StarCraft II content. Additionally, information about the upcoming leagues and events are planned to be announced in the future.
It's good news that Blizzard has managed to find a new partner after the breakup with KeSPA, ensuring that StarCraft progaming will live on. This also means that StarCraft II pro games will be aired soon after release, and eliminates the danger of Blizzard having no Korean connection when StarCraft II hits shelves. Hopefully, sometime soon, we will be able to watch professional matches of StarCraft II, providing the same awe and excitement as the ages of Brood War.
Source:
Fomos - Blizzard Signs Partnership with Gom TV
Tickets for BlizzCon 2010 will be on sale on Wednesday, June 2, and then Saturday, June 5, 2010. It will be held at the Anaheim Convention Center in Anaheim, California on October 22 and 23. In addition, there will be a pay-per-view internet video stream as there was for the previous year at BlizzCon '09.
Tickets to this year's BlizzCon gaming convention, being held on October 22 and 23 in Anaheim, California, will go on sale worldwide on Wednesday, June 2 at 7 p.m. Pacific time for $150 each, with a second block of tickets going on sale Saturday, June 5 at 10 a.m. Pacific time.
Be sure to check the BlizzCon site or the Blizzard Store on June 2 and June 5 to purchase your tickets. In past years, tickets have sold out within hours, so don't hesitate too long to buy a ticket!
For those that are unable to attend or could not obtain a ticket, don't worry; StarCraft: Legacy will be there once again to bring you some of the best coverage of the event!
Source:
Blizzard Entertainment - Current News
Blizzard Entertainment - Press Releases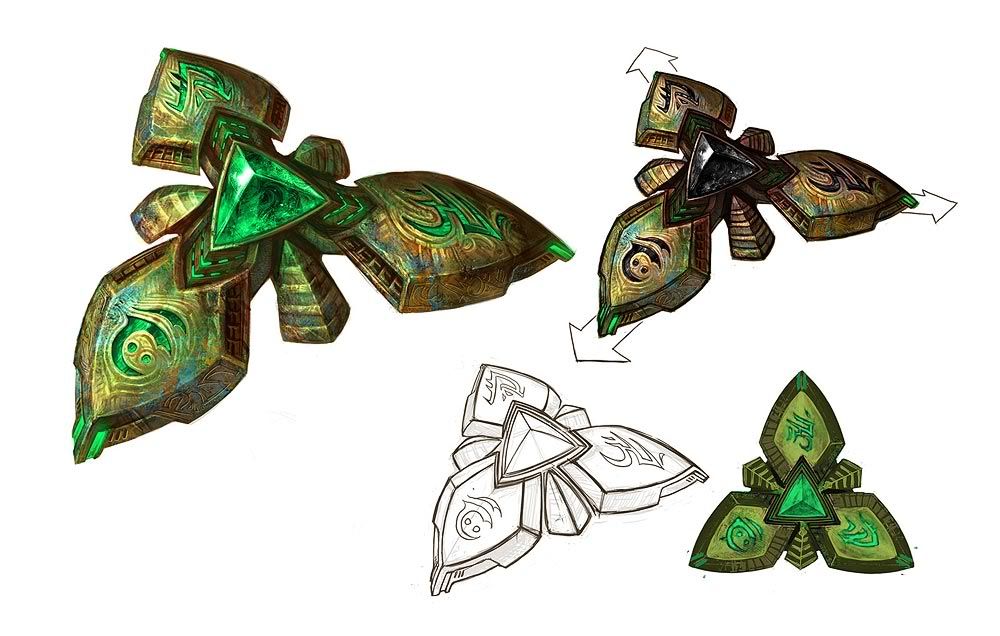 Blizzard has just created a new gallery on their main website for Concept Art. The art includes many recent works, along with classic pieces from StarCraft 1, WarCraft II, and the Diablo series. Although not containing any never before seen art yet, this site is a great tool for lore enthusiasts. If you're in the market for some new desktop wallpaper, this would be a great place to look.
Source:
Blizzard Concept Art Page
BlizzCon 2010, Blizzard Entertainment's fifth gaming convention, is going to be held at the Anaheim Convention Center October 22-23, 2010!
IRVINE, Calif. -- March 25, 2010 -- Blizzard Entertainment, Inc. today announced plans for its fifth BlizzCon® gaming convention, to be held at the Anaheim Convention Center in Anaheim, California on Friday, October 22 and Saturday, October 23, 2010. BlizzCon is a celebration of the global player communities surrounding Blizzard Entertainment's Warcraft®, StarCraft®, and Diablo® universes.

"BlizzCon offers us a great opportunity to meet with our players and share our enthusiasm for gaming with one of the most passionate communities in the world," said Mike Morhaime, CEO and cofounder of Blizzard Entertainment. "We're looking forward to providing another great show filled with entertainment, competition, and the latest information about Blizzard Entertainment games."

BlizzCast 13, the StarCraft II Beta special, has arrived. Chris Sigaty, lead producer of StarCraft II, and Dustin Browder, lead designer of StarCraft II talk about the beta process in general:
Rob Simpson: So, there's a public beta forum where testers can post feedback and suggestions so please take advantage of this opportunity to voice your opinions. Besides the public beta forum, you can also leave feedback in game using the Battle.net UI. Do you guys want to talk about the in game feedback function?
Chris Sigaty: Yeah, we're trying something new. It's actually not direct feedback, what we intend to do during the beta is put out survey information effectively that will get us directly some aggregate feedback. I talked a little bit about the numbers, we expect to see literally thousands and thousands of posts and the big stuff will bubble up through community, through our own reading, interfacing with the community, watching replays, that sort of thing. Our intention with the surveys is to be able to ask a simple question like which race are you having the most fun with? That's probably not a great example, but something specific about maybe the zerg. What are your favorite abilities on the zerg? We can look at what's being used by actually looking at stats, but that doesn't necessarily answer the question of what are you having the most fun with or which ones are you liking the most. The two may be directly correlated but may not. So we can get information a different way and this will hopefully allow us to get some aggregate information, more of a math answer than having to read through and say, "I think what I read was these..."
This is by far the lengthiest BlizzCast as far as StarCraft II material is concerned. Dustin and Chris also go into detail about the latest developments with StarCraft II's single player mode. Read the rest here.
Source:
Blizzard.com - BlizzCast #13
Almost three weeks ago, Activision Blizzard announced that February 10th would be the day that their Fourth Quarter Calendar 2009 Results Conference Call would be unleashed not only to it's investors, but to the public domain as well.  The hype in the community can be felt like the breath of a Zergling lurking over our shoulders with a likewise anxiety for what we seek to know... a glimpse into the ironclad mind of Blizzard Entertainment.
Be sure to get yourself something to drink and munch on and join us in the StarCraft: Legacy IRC Channel while we all provide speculation, conversation and revelation regarding this publicly accessible event.   It will be a place where others can cheer with you or feel your pain as we find out the next formal announcement that they provide to their investors. To listen to the broadcast, you will have to have have Windows Media Player or Realplayer installed.
Connect and listen to their conference call here
Directions to join our IRC channel can be found here.
Sources:
Activision Blizzard Fourth Quarter Calendar 2009 Results Conference Call
How to Connect to StarCraft: Legacy IRC Channel
The newest edition of Blizzard's podcast series, Blizzcast #12 is now available for your listening pleasure. It is a "WarCraft anniversary" edition of the show, and thusly has little to no StarCraft related discussion or topics.  However, there are some interesting overall game design discussions and Blizzard history lessons. 
Kennigit
of 
Teamliquid.net
had the opportunity to sit down for 30 minutes with 
Dustin Browder
, Lead Designer of
StarCraft II
.  This interview touches on a range of great subjects regarding his experience before and with Blizzard Entertainment, challenges with the design process, how the community assists their work, thoughts on racial balance, map analysis, eSports and much more.
We are trying to make this game complete – like if nobody buys any other product, this game needs to be awesome. Like if Blizzard gets hit by a meteor tomorrow and we all die, at least StarCraft II was awesome – that's what it needs to be.
Read the entire interview 
here
.
Source: